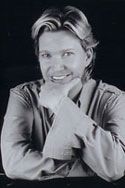 Behind the scenes or on camera, Mark Payne is an industry expert, world-class performer, as well as a renowned leader in the field of beauty and now filmmaker. 
Mark's most unusual childhood is what has inspired him in all he does. At the age of twelve Mark began making home movies of himself performing as his favorite singers. He involved his mother, grandmother and neighbors in the creative process. 
Acting as his own agent, Mark began his illustrious career at the age of thirteen. As a performer he worked with such luminaries as Bob Hope and Milton Berle. Mark's international appeal led to headlining dates in Europe, Australia and the Far East. This experience gave Mark the edge needed to work both behind and in front of the camera. 
Mark morphed his talent into several incarnations. He was a successful performer, singer and recording artist. He also designed clothing for a well-known brand and under his own name. Many celebrities including Madonna have purchased his clothing. Mark followed in his mother's footsteps and secured his place as one of the most sought after makeup artists in the business. Celebrity faces that he has painted include Beyonce, Courtney Thorne-Smith, Paris Hilton and Kelly Ripa.
The two-time Emmy winner's work has been seen by millions in music videos, editorial features, advertising campaigns and on virtually every celebrity from Hollywood Royalty to British Royalty. He is a regular contributor to Elle, In Style and Allure fashion magazines. 
While working on a tribute video about Mark a friend asked his assistance in compiling footage from his childhood. This sparked his creativity in a way he had not experienced since his childhood performances. Because of the hundreds of hours of footage and his knowledge of that footage it was a natural decision for him to direct. Several private screenings of the film sparked a buzz amongst his peers. It became clear that his inspirational short film needed to be seen by a larger audience. 
The essence of Mark's individuality lies in his easy congenial manner and his effortless clean line approach to his art. The seduction of his charm and wit, along with his remarkable talent and has secured his place in the industry.